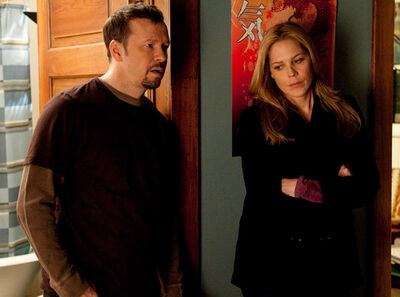 This is the first (1st) episode of
Season 3
, and the twenty-eighth (28th) episode of the series,
In Plain Sight
, as a whole. This episode aired March 31, 2010 on the USA Network at 10pm/9pm central.
Three years ago in Boston, Massachusetts, Jimmy McCabe, a tough mobster, is planning an armed truck robbery when his son, Nicholas, calls. He apparently is having trouble with homework and wanted to see if his father needed a pick-me-up as well. Jim tells him to leave it on the counter with his homework as he goes back to work. Once Jim's crew slow down the truck to a halt, they bust open the back door, only to find that the truck is empty. Apparently the loading docks alreay got hit up by another crew and the driver couldn't pick up his goods to begin with. A disgruntled Jim returens to his dark home, only to find his boss waiting for him, wondering why he didn't drop by the bar. Jim didn't think he had to pay anything when he didn't didn't make anything off a heist. His boss however has one of his men holding a gun to Nick's head. Jim finally gives in and says there a steel box he can repay with. It turns out to be a trick though, as Jim pulls out his gun, shoots his boss and hired help, while freeing his son. They hudle together in the dark as Jim apologizes to Nick.
Deleted Scenes & Trivia
Edit